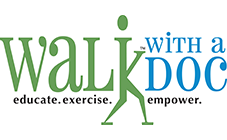 York County Rail Trail Authority will host a doctor-led, walking event on Sunday, October 24, 2021 from 10 AM-11 AM on the Heritage Rail Trail beginning and ending at the Brillhart Station parking lot.
This doctor-led event will feature a short health talk with General/Colorectal Surgeon, Dr. Daniel Goldman, followed by a short walk along a section of the Heritage Rail Trail.
The event is FREE and all are welcome!
With an aim to make hope and health accessible to all, our doctor-led walking event is a safe, fun, and FREE way to get some steps, learn about health, and meet new friends. Join us by attending this Walk with a Doc.
Directions to the Brillhart Station parking lot of the Heritage Rail Trail can be found at https://yorkcountypa.gov/images/pdf/Parks/RT_parking_lot_directions.pdf
Check out the Walk with a Doc website at https://walkwithadoc.org